This is a test page for some digital mapping walking routes around Ruislip Woods.
Will you go into the woods today?
From Bronze Age settlements to WW2 secret service training, Ruislip Woods ancient woodland have lived through a lot of history and offer lots for you to explore. Visit the Woodland Centre by Ruislip Lido to find out about the plants and animals that live in the woods and how the woodland reserve is managed for the benefit of people and wildlife.
Are you ready for a woodland adventure?
The woods are full of marked public footpaths and bridleways but it can be a bit confusing. Just select a route from the list below to access a map to help. Follow the links to download a PDF or send a Google Map navigation link directly to your phone. If you have a preferred mapping app already installed, such as Komoot, ViewRanger or AllTrails, you can select a gpx file to open in your own app. Printed maps of the coloured walking routes are available to pick up from the Woodland Centre.
Whichever path you choose, keep your eyes and ears open to discover more and be a good woodland visitor – follow the countryside code and stick to the waymarked paths.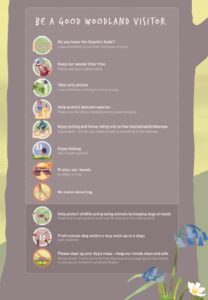 Woodland Wander (2.5km)
This gentle, circular loop starts and ends at the bus stop by the Water's Edge pub on Reservoir Road. Enjoy the open views of Poor's Field, which is grazed by cattle to maintain the ancient habitat for flowering plants, and then delve into the woods for a taster of life under the cool canopy, sheltered by hornbeam, beech and oak trees. Keep a look out for squirrels and birds that make these woods their home.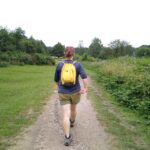 Open Woodland Wander walk in Google Maps
Download a gpx file (not enabled)
Woodland Explorer (5.5km)
This circular route starts and ends at the bus stop by the Water's Edge pub on Reservoir Road, but has a couple of alternative entry/exit points to the woods. If you're ready to explore a little further and spend more time in the woods then this might be for you. Listen for woodpeckers drumming on tree trunks and the scamper of squirrels through the leaves, watch as butterflies dance in patches of sunlight that reach the woodland floor and imagine what it was like in WW2 when American secret service agents were based here for training before going to war. Take a moment to visit the site of an old chapel where you will find a memorial to the Scouting movement. The route follows a mixture of footpaths and bridleway and is a shared path so please share with care.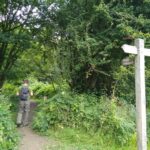 Download a gpx file (not enabled)
White route (0.9km)
An easy access route between bus stops on Wiltshire Lane and Bury Street. Why not venture into the woods and enjoy a slice of nature in your day? Oak and hornbeam are the two most common trees in Ruislip Woods – Try rubbing your hand on the bark to feel the different textures: oak has rough bark and hornbeam is smooth.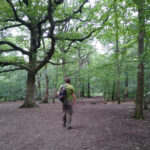 Download PDF (not enabled)
Download gpx file (not enabled)
Red route (1.2km)
An easy access route from Wiltshire Lane to Reservoir Road, taking in a little corner of Park Wood and a pleasant stroll across Poor's Field. You may spot wild cherry trees near the start of the walk – they have shiny, reddish bark and the fruits in autumn provide food for wildlife. Poor's Field is the last remaining piece of the common wasteland that used to cover a much larger area in the north of Ruislip Parish. Look out for small grass mounds, which are ant hills and provide important feeding areas for green woodpeckers.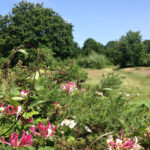 Download PDF (not enabled)
Download gpx file (not enabled)
Blue route (1.6km)
This easy route gives a taster of Mad Bess Wood and is accessed via Duck's Hill Road. The open areas of woodland you will pass have been coppiced (cut low to the ground) – this ancient practice regenerates the woodland, provides timber and encourages more wildlife into the woods. Different areas are cut on a 20-year cycle. From the edge of the wood, you might spot raptors (birds of prey) over the open field – look out for kestrel, hobby, sparrowhawk, buzzard and red kite.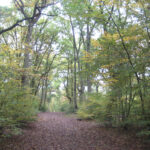 Download PDF (not enabled)
Download gpx file (not enabled)
Yellow route (9.6km / 6 miles)
This is the longest of the marked routes, taking in all the elements of Ruislip Woods and following part of the Hillingdon Trail as you explore between Ruislip High Street and St. Mary's Church in Harefield to the west. Enjoy wide open views to the Colne Valley, which contrasts with the enclosed wooded sections of the walk. Follow the yellow arrow markers to stay on track and keep your eyes and ears open for butterflies, birds and bluebells (in spring). Take some time in the church graveyard to soak in the peaceful atmosphere, the last resting place of a number of Australian and New Zealand servicemen from WW1.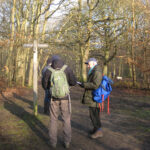 Download PDF (not enabled)
Download gpx file (not enabled)